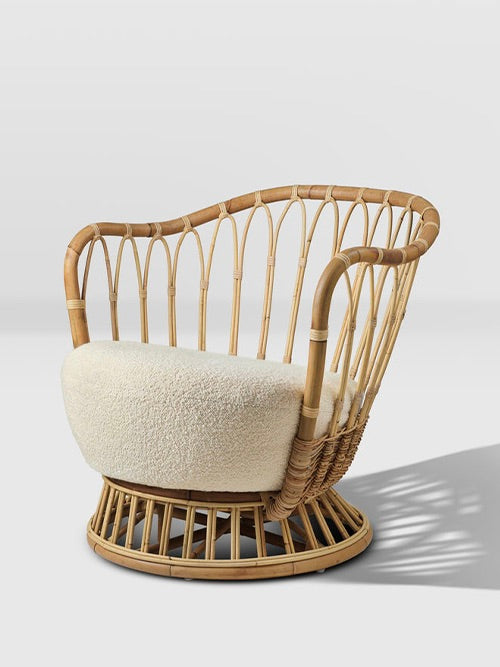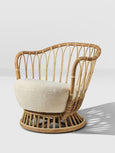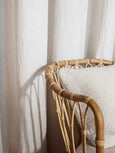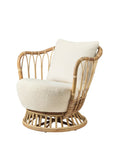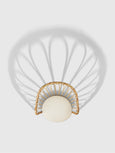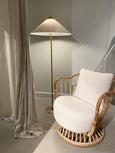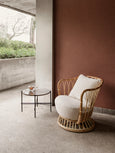 GRACE LOUNGE CHAIR
11.999,00 DKK
PROMOTION : 25% off GUBI lounge chairs, lamps and mirrors
PRICEMATCH ON ALL PRODUCTS FROM GUBI.

Please let us know if you have fund the product (not a display model) at a better price in another shop in Denmark. We will love to match the price and give you the best service along with it. 
Estimated delivery time 2-3 weeks.
An elegant, organic and harmonious compendium of curves, the Grace Chair by Tove Kindt-Larsen leads the contemporary revival of the sustainable and natural rattan material.
Inspired by the soft curves of pebbles and driftwood she would collect from the beaches of northern Denmark, architect and designer Kindt-Larsen's envisioned a graceful refinement of the informal rattan lounge chair. With its sweeping, gentle curves and intricate loops of flexible rattan, it supports a generous, upholstered seat and envelopes a plump, loose back cushion. Together they bring a comfort, tactility and and lightness that brings the outdoors inside, while the characteristics of the rattan frame give it a natural robustness and longevity.
The timeless beauty of Tove Kindt-Larsen's 1936 design and the sustainability of the rattan material make the Grace Chair a highly versatile and popular addition to the GUBI collection.
With a choice of upholstery options available, it can add light and texture to a home and an informal yet elegant welcome to hotel or business interiors.
Product Net Weight Kg:

9.5

Gross Weight Kg:

12.5

Gross Height Meter:

0.78

Gross Length Meter:

0.76

Gross Depth Meter:

0.83

Seating Dimensions Dx Wx H:

75 x 80 x 74 cm

Seat Height:

43 cm

Seat Width:

65 cm

Seat Depth:

60 cm

Back Height:

45 cm

Armrest Height:

28 cm

Armrest Distance Between:

70 cm

Frame Width:

80 cm

Frame Depth:

73 cm