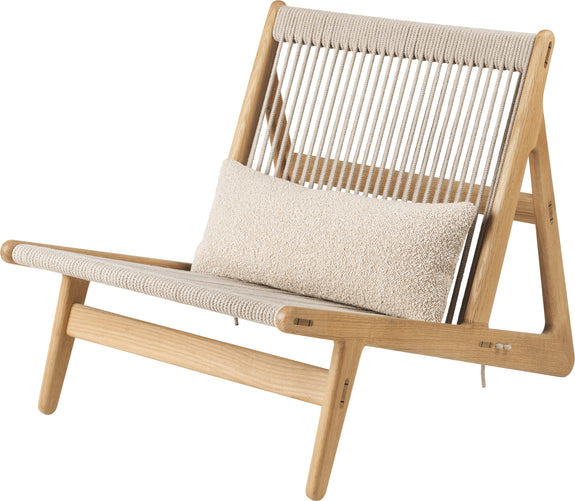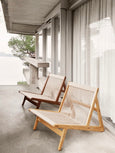 MR01 Initial Chair with cushion
14.999,00 DKK
PROMOTION : 25% off GUBI lounge chairs, lamps and mirrors
PRICEMATCH ON ALL PRODUCTS FROM GUBI.
Please let us know if you have fund the product (not a display model) at a better price in another shop in Denmark. We will love to match the price and give you the best service along with it. 
Estimated delivery time 3-4 weeks.
Beautifully honest, light in both weight and expression, new Danish talent Mathias Steen Rasmussen's debut piece is a striking interplay of craftsmanship, comfort and sustainability.
Originally conceived as a lounge chair that he could also use for meditation in his home, Rasmussen's combination of wood and rope creates a simple, flexible chair that gives a sense of both floating and connection with the ground.
The open triangle frame, available in either walnut or oak, has been constructed without using a single screw, while the 90 meters of hand-woven, natural linen cord that make the seat and backrest add a lightness to the design.
The MR01 Initial Chair can give comfort all year round. The rope construction allows airflow in the warmer months, and simply adding a blanket or sheepskin makes it cozy all through winter.
For added comfort in many sitting positions, a bouclé wool covered pillow is included.
The Initial chair can be placed alone or in pairs in the home, while it functions superbly in longer rows or clusters in hospitality settings.
The simplicity of the MR01 Initial Chair's design and materials ensure it a longevity and durability that are central to Rasmussen's core philosophy.
Gross Weight Kg:

13.5

Gross Height Meter:

0.76

Gross Length Meter:

0.92

Gross Depth Meter:

0.7

Seating Dimensions Dx Wx H:

88 x 65 x 69 cm

Seat Height:

33 cm

Seat Width:

60